What Is Classic Furniture? How Is It Made and Why Should You Buy Classic Furniture?
A Guide To Understanding Classic Furniture Production
The manufacturing process of handcrafted classic furniture is complex. In order to understand the differences between the various products, one should be aware of the defining aspects of their styles, their production methods, and the time periods in which they were used.

Classic furniture is defined as high-quality, timeless pieces that are built to last, made using traditional methods and materials, ensuring their durability.

Classic furniture is an excellent investment, as it will retain its value over time.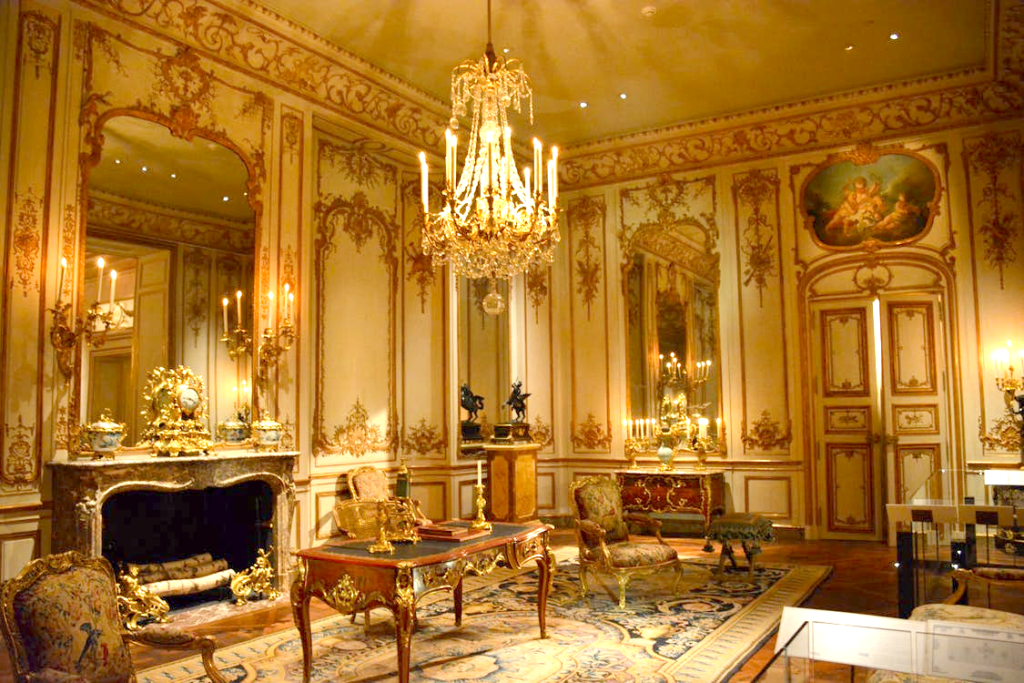 Royal Palace interior beautiful carved furniture elegant gold leaf gilding over motifs
The ancient art of making elegant and timeless furniture from wood using hand and hand tools. Over time, this art continued to develop for centuries and today this art holds its own place in the world. Hand-made carved furniture remains in great demand in the world even today, it has been of great interest, especially among the wealthy and aristocrats.
Hand-carved furniture is not just an item of furniture but a special kind of art, which is why it has so much popularity among the elite and rich people.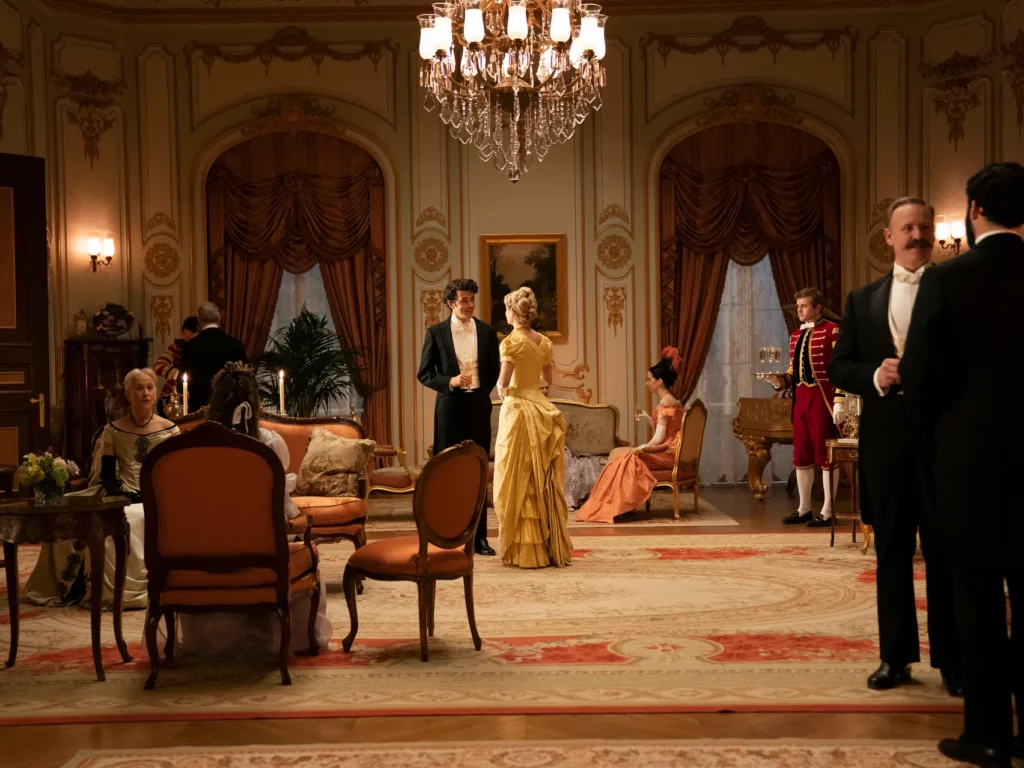 Photographer: Alison Cohen Rosa/HBO
If you look in the windows of history, innumerable such luxurious historical buildings, forts, and castles are still standing with pride, whose grand and large rooms are furnished with hand-carved furniture. These luxurious buildings are beautifully narrating the history of this magnificent art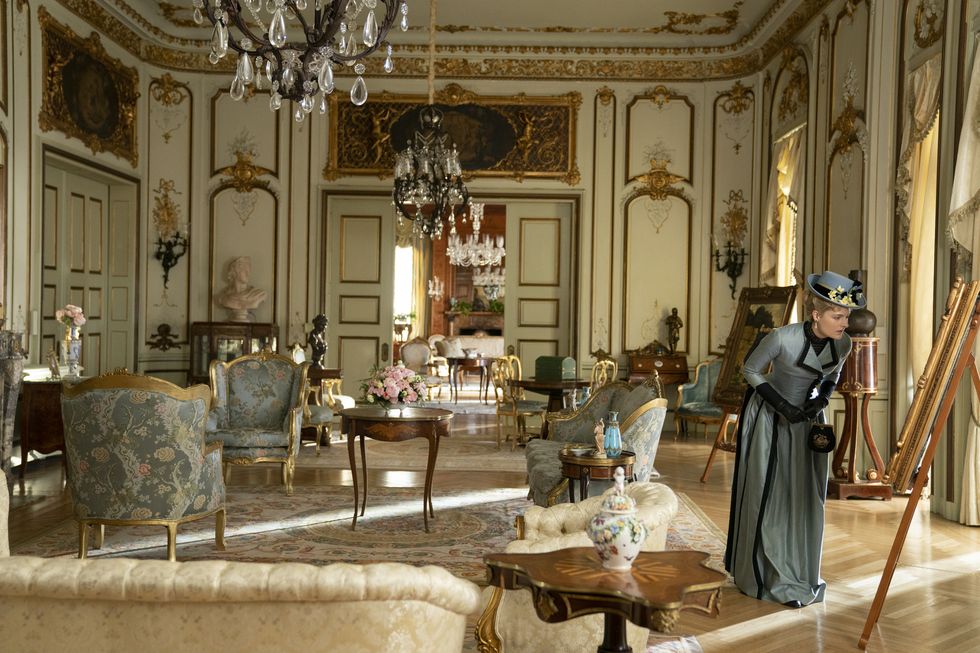 Louisa Jacobson as Marian Brook in The Gilded Age, HBO, .Photographer: Alison Cohen Rosa
Classic furniture is an excellent investment, as it will retain its value over time.
Hand carving furniture is unique in itself and this unique art is well understood by those who have seen it closely, and have recognized the hard work, dedication, and passion behind its making.
Beautiful flower clusters, curved vines, and fondly carved leaves. A variety of geometric designs, beautiful faces, cabriole legs, and a variety of motifs make carved furniture a classy art.
This is such a profession and it is an art that is found only in selected places of the world because it takes a lot of time to make hand-carved furniture and its buyer is only a few selected people, this reason also makes it expensive.
| | | |
| --- | --- | --- |
| Scandinavian Flat Plane Carving | Chip Carving | Hand Carved Festoon -Royalzig |
| Hand Carved Festoon-Royalzig Luxury Furniture | Carved Wood Flower Basket | |
With simple-looking tools made of hard iron and using his beautiful images, the artist creates furniture and other works of art by creating magic with his hands on the wood.
Let us give you in-depth information on each step from the beginning one by one, how a unique hand-carving work is made.
Manufacturing Process of Handcrafted Classic Furniture
1. Drawing
If you ask any expert craftsman in the world, what is the special contribution to the quality of any carving artwork? So you will get only one answer and that is the most important and the first thing is drawing.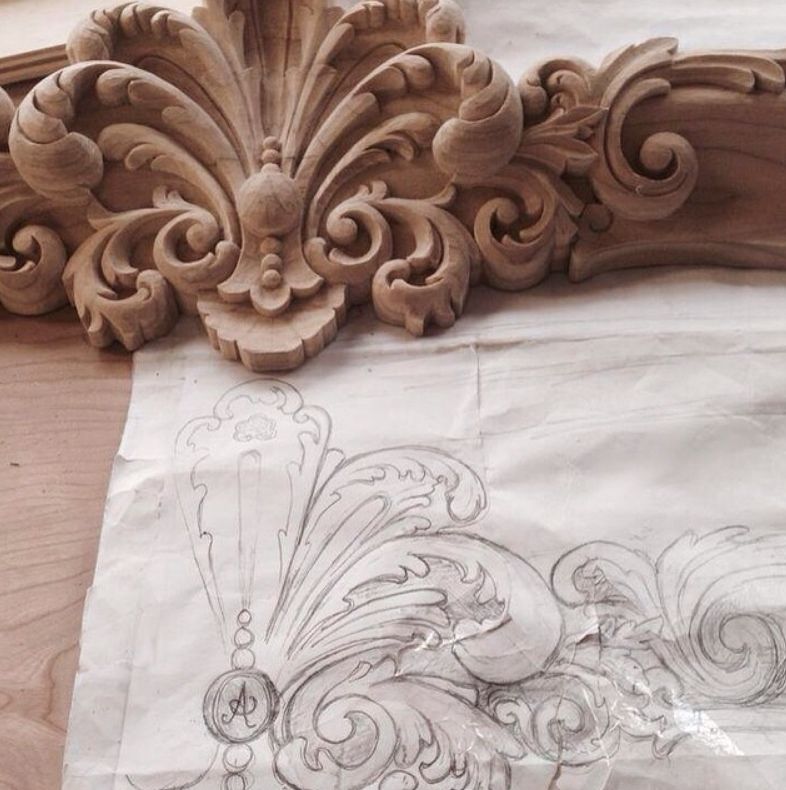 Drawing is an important aspect in the context of carved furniture or context of any other handicraft, it is really a matter of making your imagination come true on paper, this will give you a real idea of ​​how long it will take and how it will look.
If the artist is going to make carving furniture for a client, then this is the only way for him to show the design to the client, after seeing the drawing, the client can make changes according to his choice.
2. Wood selection and cutting
Wood selection and cutting: The second step in carving furniture designing is the choice of strong, best, and right size wood. Pre-drawing for size is available, right size wood is selected according to the drawing, after that when the surface of the wood is cleaned with the planer and the copy of the drawing is carefully pasted on top of the wood Accordingly, the carving work will be completed.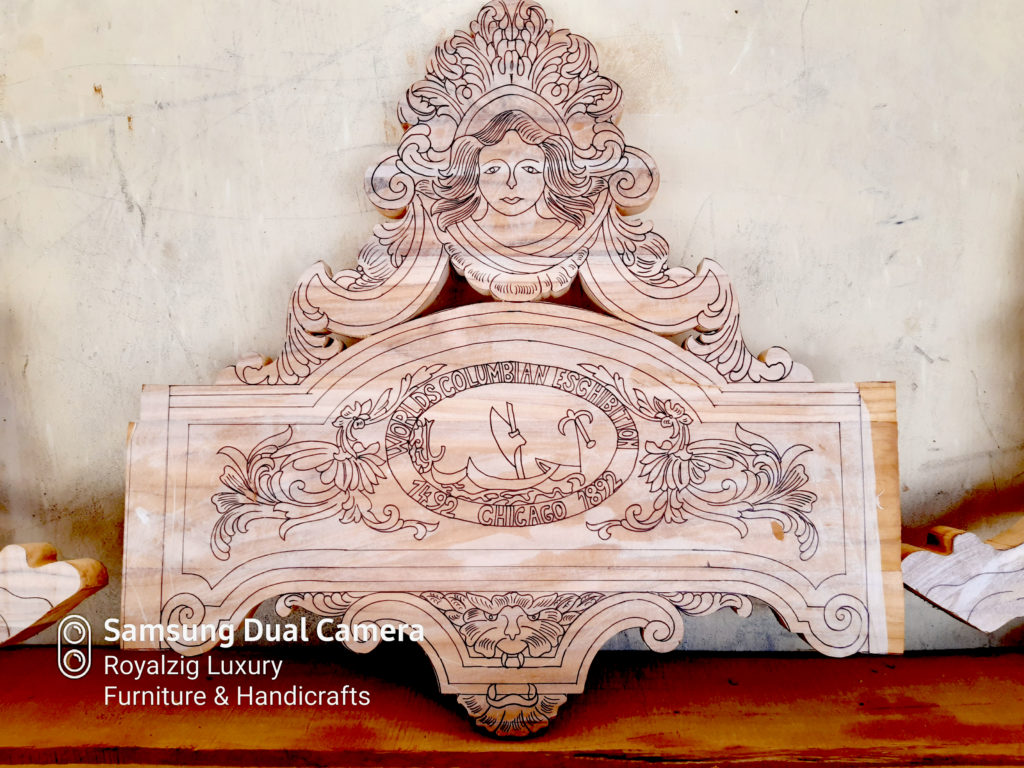 Face Drawing and cutting
**Important Note: Carving should be done according to the wood grains, the design will be carved in the direction in which the grains are straight, then it will not break and will come out clean, otherwise it will break while carving and will always remain rough No matter how smooth you try.
In the case of carving furniture, first, there is a temporary carpentry of all the different parts, which gives an indication of what will be the shape of the furniture in the end. After confirming the shape with a temporary carpentry, each part is then marked to remember where the particular part was attached first and then every part will be disassembled for ease of carving work. In this way, different parts are carved, and then later their carpentry is done.
3. Wood Carving
Wood carving art, is how complicated and patient-testing art is, only an artist has an idea of ​​it.
About 20 different tools are used in wood carving, 4 types of tools have to be swapped in about 2 minutes while carving to give the right shape to a fully bloomed flower.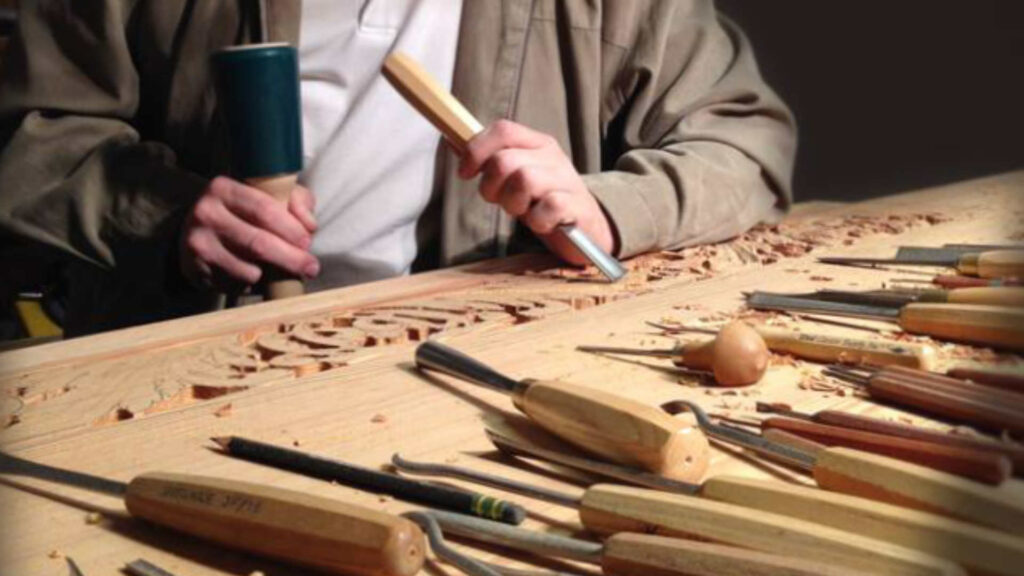 Sometimes it can take up to 2 years to carve a sculpture, the time taken for carving mainly depends on the size, shape, and design of the sculpture or furniture as well as the skill of the artist.
Wood carving art is divided into 8 different methods and styles depending on the technique and tools used.
Out of which 3 are mainly used in furniture carving.
4. Carpentry
In the case of carved furniture, the final carpentry of the furniture is done once again after the artist has finished carving all the parts of the furniture. In the final carpentry, all the carved parts are put together, and this work should be done according to the marks marked when the carpentry was done for the first time.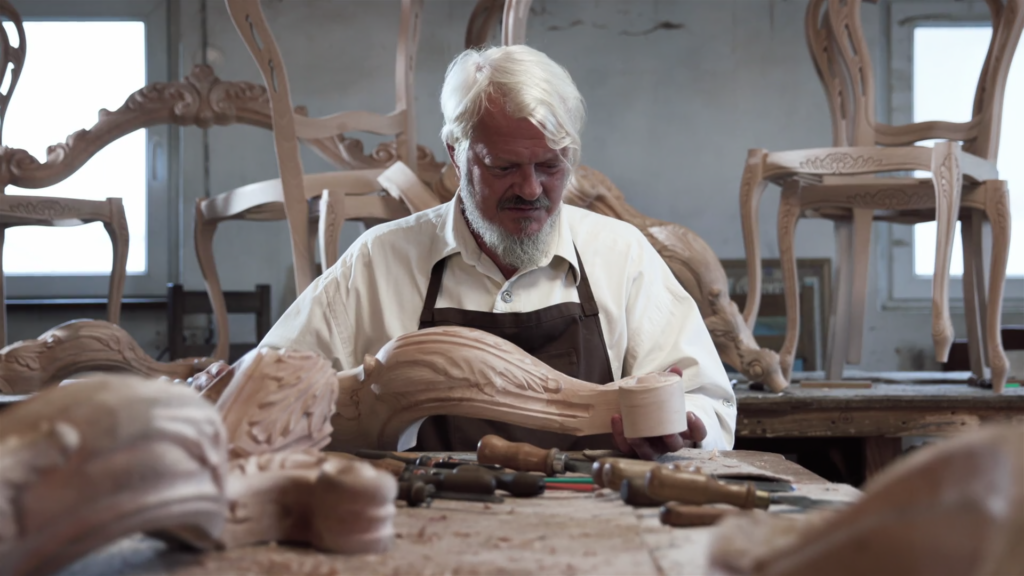 After the carpentry is complete, take a look again at the places where the joinery is done, the carving may need finishing.
Wood sculpture carving usually does not require very skilled carpentry. If there is a need to add a different piece of wood somewhere in the sculpture, then a skilled sculpture artist knows how to do this work easily.
5. Finishing
The important step after carpentry and carving of carved furniture is finishing.
Carved furniture finishing is a very interesting and detailed subject in itself, from the old times till now, new methods and techniques have been added to it, which gives an interesting flavor to the subject.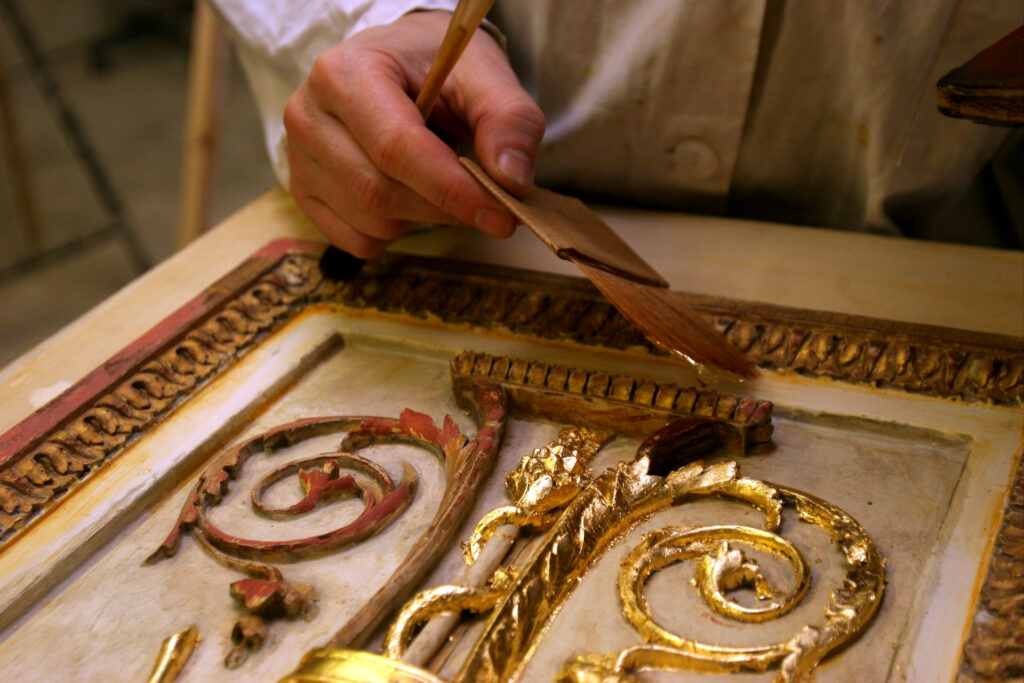 In the early period, carving furniture was mainly finished with Gold Leaf, natural colors, oils, and waxes. The raw material for finishing was prepared from tree gum, shellac, beeswax, vegetable oil, etc. If any kind of color had to be used in the furniture, then the colors prepared from plants- leaves and flowers were used.
Mainly oil, wax, shellac, and lacquer were used in the early stages of the finishing of furniture.
With the passage of time, technology kept on improving, and accordingly, the finishing materials also changed.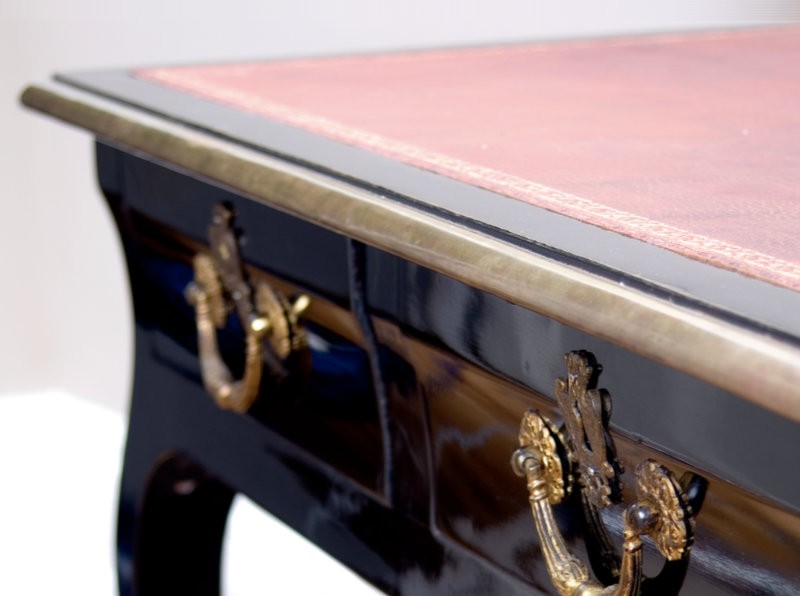 In today's modern era, many international companies are spending a lot of money in research to prepare different types of advanced finishes for the furniture industry. From time to time, these companies keep introducing advanced quality furniture finishing products in the markets.
Talking about finishing in the context of carving furniture, it is a whole process in which skilled artists make the carved wood which has a rough and uneven surface, smooth and colorful through various processes and materials. This step-by-step process of finishing is completed in several stages, depending on the type of finishing, the steps may be more or less.
---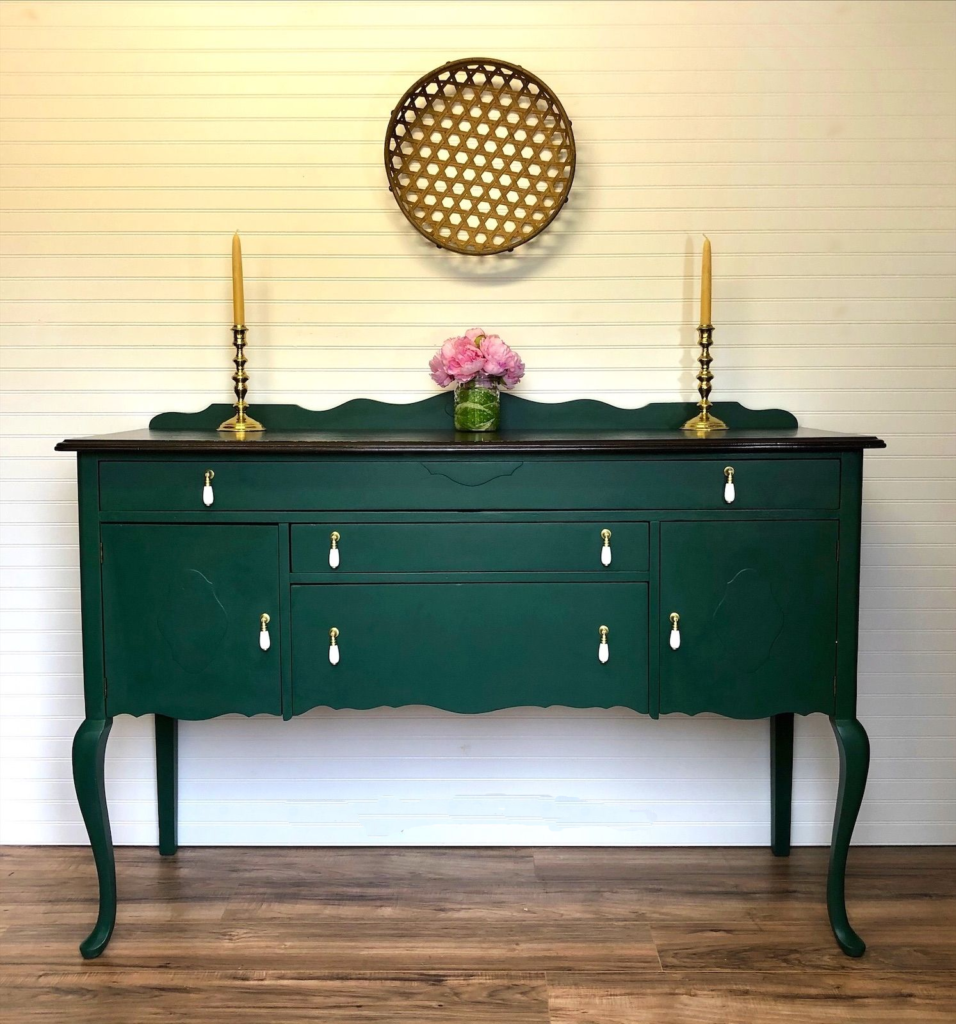 4 Different-Looking Finish
Rustic finish
Antique Finish
Distress Finish
PU Laminated finish
Bases on sheen finishing can be
High Gloss
Semi-Gloss
Satin
Matt
Dead Matt
The complete process of finishing carved furniture is described in detail here step by step
(a). Sanding: Carved furniture or any other carved product, even if it does not have to give any special finishing or colour, still sanding is a process that should be done after carving, sanding makes the carving clean, smooth, and shiny and beautiful.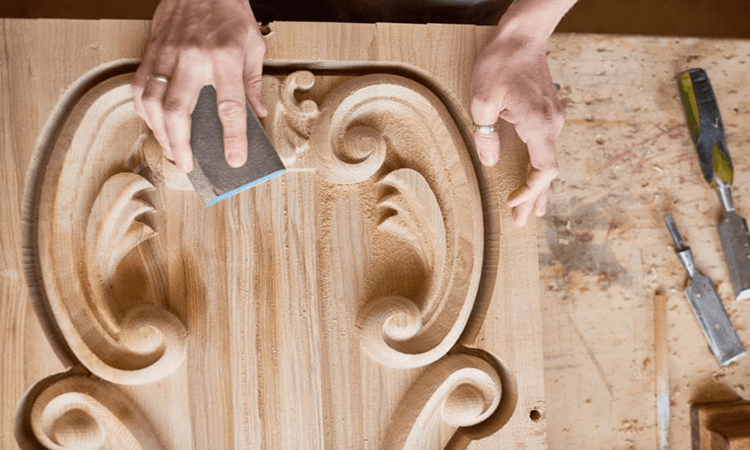 This is the most difficult work, each and every flower and leaf of the carving has to be rubbed with sanding paper many times from all sides, then it becomes smooth and clean. Sanding work plays an important role in making carved furniture look better, the better the sanding, the more beautiful the furniture will look. It takes a lot of time to sand the carved furniture properly, the nails of those whom do it break, and the skin of the fingers also peels.
Different types of sandpaper and other tools are used for sanding. For sanding, coarse sandpaper is used in the beginning, then after that fine sandpaper is used as per convenience. The sanding process is repeated over and over again until the desired finish is achieved. Sandpaper is chosen on the basis of grit number.
(b). Rubbing: Rubbing is mainly done to soften the carving and avoid moisture in the wood, for this a variety of oils, alcohol, and other substances are used. Natural oils enhance the beauty and depth of grain in wood. Rubbing material is selected according to the type of finishing required.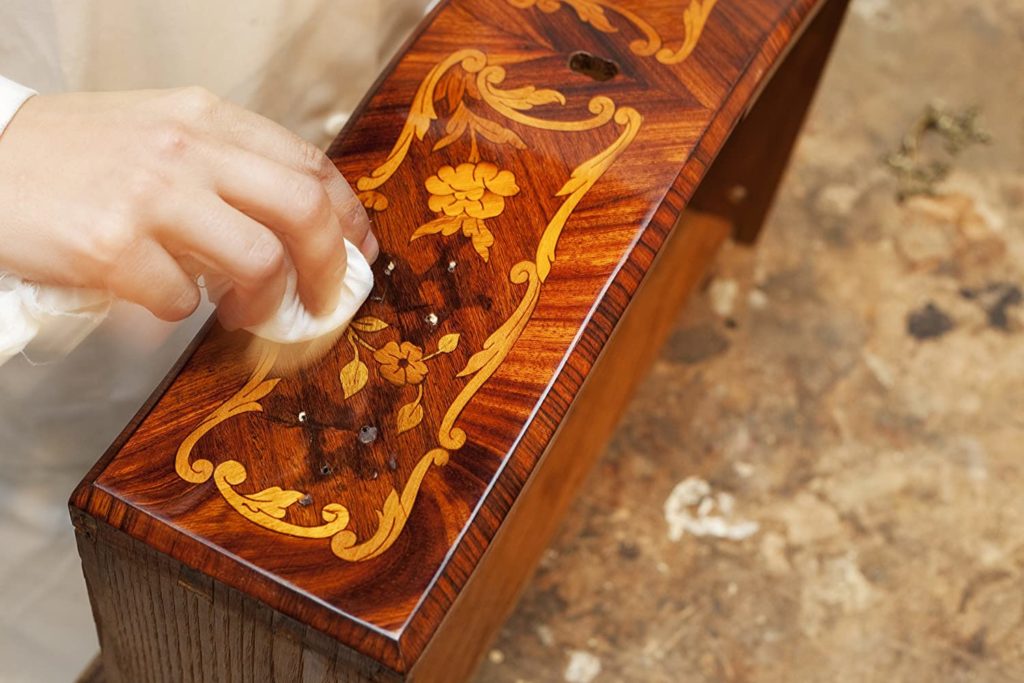 (C) Colouring: After sanding and rubbing, when carved furniture looks clean, smooth, and soft, it is considered ready for colour. Various types of paints, stains, and dyes are used for coloring.
This process of colouring is done before the work of upholstery.
Various colour techniques and different types of paints are used to finish the carved furniture. Paint companies keep introducing their special products in the market.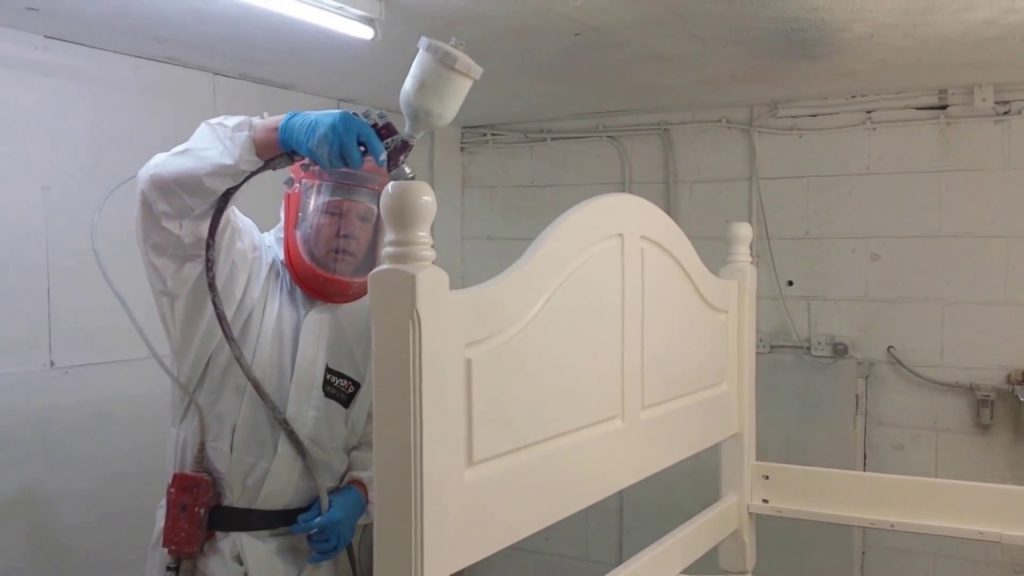 Some different types of paints and other materials that are used for furniture finishing are mentioned below.
6. Upholstery
The process of making soft covers for chairs, sofas, and other furniture materials is called upholstery. The upholstery process uses fabric, padding, webbing, cellular polyurethane foam, springs, and stitching.
| | | |
| --- | --- | --- |
| Carved Chair Beautiful Upholstery Work | Caved Chair Cushion Padding | Carved Furniture Chair Upholstery |
In ancient times, before the invention of the sewing machine and synthetic fabrics, solid wood or webbed platforms were used to make softly padded covers, including springs, grasses, and coir, lashings, stuffings of animal hair, wools, scrims, bridle ties, Hessians, stuffing ties, blind stitching, top stitching, flocks, and wadding all built up by hand.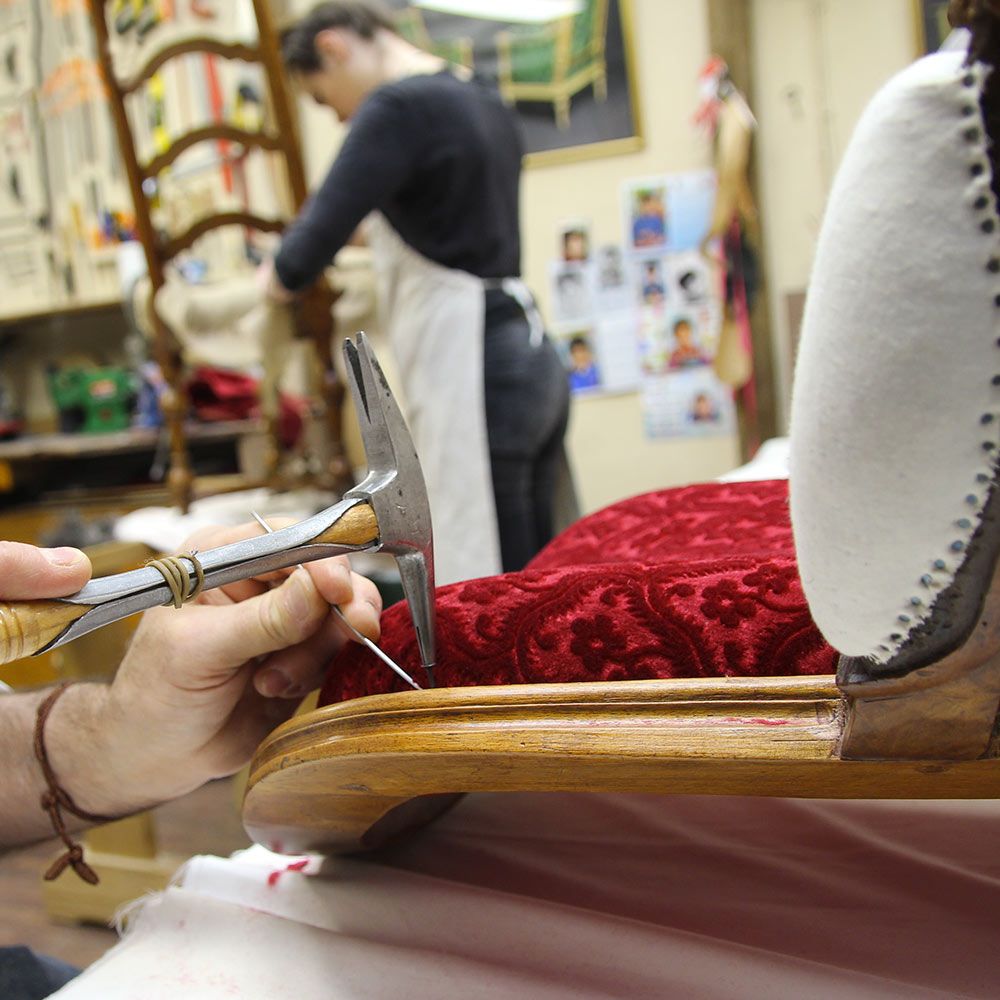 In today's modern era, very soft and comfortable materials are available for upholstery.
For Wadding & Padding
Cotton Wadding , Hollow-Fill Fiber, Polyester Wadding is used.
Along with this, many types of foam such as
High-Density Foam
Medium-Density Foam
Low-Density Foam
High-Resiliency Foam
Latex Foam
Memory Foam
---